Special economic zone industrial and production type «Alga»
Location of Special Economic Zones (SEZs) on four separate sites allows you to place enterprises by cluster type, grouping them by industry affiliation, by similarity of technologies and raw materials base.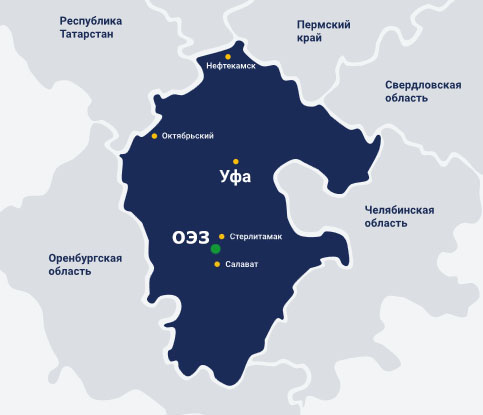 Bashkortostan is one of the most developed and politically stable constituent entities of Russia, the largest Republic in terms of population and a unique region in terms of the diversity of ethnic groups, cultures and languages spoken.
The economy of Bashkortostan is characterized by a multi-industry structure with a high level of integrated development, focusing on industry, construction, transport and agriculture. Major industrial centers are the cities of Ufa, Sterlitamak, Salavat, Neftekamsk, and Oktyabrsky.
The Republic is located on the border of Europe and Asia, at the intersection of the most important water, railway, pipeline and automobile highways connecting the European part of the country with the Urals, Siberia and the countries of Central Asia.
Read more on investrb.ru